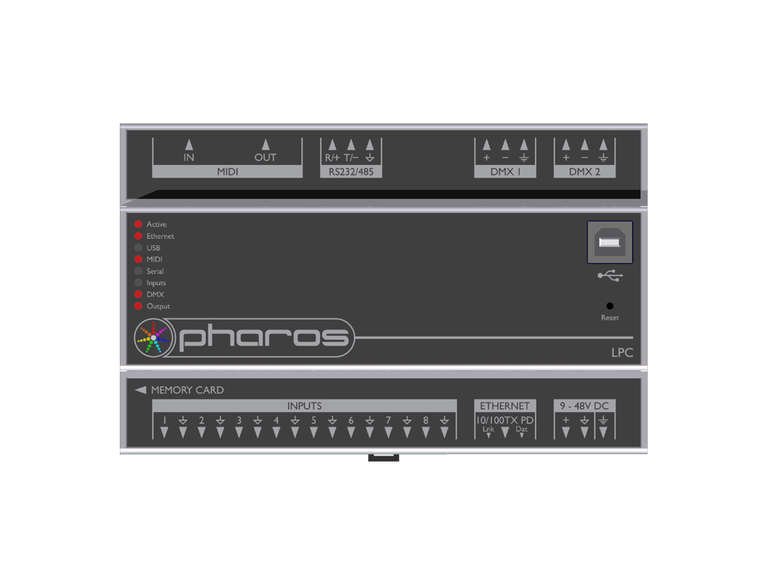 Light-Controller | DIN-Rail | LPC
The Pharos LPC (Lighting Playback Controller) is an award-winning, all-in-one control solution for themed entertainment and LED lighting installations.
It features individually controllable and independently running timelines and scenes, letting you build dynamic, precise, fully customisable pre-programmed lighting effects with the freedom of real-time manual overrides and the versatility of powerful show control and integration features.
Dimensions

144 mm x 90 mm x 58 mm [W x H x D]
5.65 in x 3.54 in x 2.28 in [W x H x D]

Control

Ethernet: RJ45 socket for 10/100Base-TX Ethernet with Link/Data LEDs; Fixed IP or DHCP; Dual IP address for eDMX
DMX512: Two isolated DMX ports, RDM compatible
Serial: RS232 / RS485 / DMX In
Inputs: Eight inputs, individually selectable operating mode for contact closure, digital or analogue input
MIDI In & Out: MIDI via 5-pin DIN 41524 socket
USB-B socket: USB 1.1 for connection to PC

Input Voltage

Power Supply: External | 12 VDC

Power Consumption
Max. 4 W
Power Consumption
PoE (IEEE802.3af, Class 2)
Operating Temperature

0°C to 50°C | 32°F to 122°F
Humidity: 10-50% relative, non-condensing

Ingress Protection
IP20
Environment
Your order code:
Send request
When the background gets green, your selection is complete!
Please choose from the options below.
CONTROL
UNV1 - 512 channels DMX/eDMX
UNV2 - 1024 channels DMX/eDMX
UNV4 - 2048 channels eDMX incl 1024 ch DMX