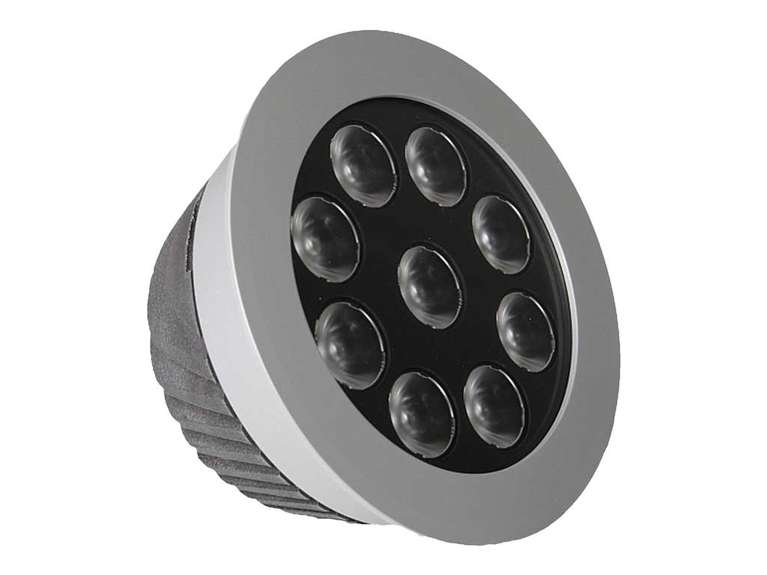 tectum m RGB
RGB
The color dynamic downlight and wall flood beamer
The tectum m RGB excels with a stunning variety of beam angles, e. g. providing wall-washing applications by using asymmetric light distribution. Mall shop fronts, entrance halls, corridors and hallways are possible areas of application. Every single light fixture can be individually addressed, making remarkable effects possible by combining several lamps in a chain.
Dimensions
Diameter: 125 mm (4.92 in), Height: 65 mm (2.56 in)
Luminaire Type

&nbsp&nbspRGB

Beam Angles
Luminous Flux
650 lm
Light Source
9 x LED
LED-Binning
MacAdam Ellipses Binning
3
Control
DMX
Input Voltage

Power Supply: External | 30 VDC

Power Consumption
Max. 15 W
Protection Class
II
Operating Temperature Range
-20 °C / +40 °C | -4 °F / +104 °F
Lumen Maintenance [L70]
65'000 h @ 25 °C (77 °F) | 40'000 h @ 40 °C (104 °F)
LED-Class
Class 2 LED product
Housing
Aluminum Heat sink: Titan anodized
Housing Color(s)

Aluminium anodized (Standard)

Titanium anodized

Black anodized

Frame
Natural anodized (Standard), Titan anodized, Black anodized
Installation Depth
63 mm (2.49 in)
Cut-out
Diameter: 115 mm (4.52 in)
Ingress Protection
IP20
Environment

Warranty
24 Months
Certification
Your order code:
Send request
When the background gets green, your selection is complete!
Please choose from the options below.
BEAM ANGLE
8° x 8°
10° x 10°
23° x 23°
43° x 43°
52° x 52°
8° x 31°
10° x 42°
12° x 60°
12° x 90°
20° x 60° (Tilt C0: 10°)
HOUSING COLOR
Aluminium anodized (Standard)
Titanium anodized
Black anodized
Max. Fixtures per Feed

PS 500 indoor: Max. 30 fixtures (refer to cabling guide with PS 500)
PS 250 indoor: Max. 15 fixtures (refer to cabling guide with PS 250)

Input
cablelength factory wired 1m [39.37"]