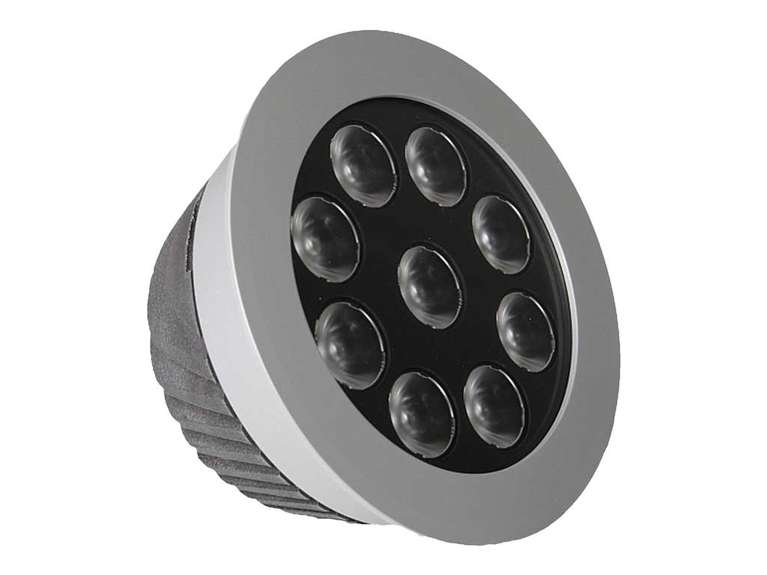 tectum m
pureWhite | pureColor
The vertical downlight for high ceilings
You need a powerful recessed depth beamer for highlighting ground objects? This is the realm of tectum m. Its adjustable focusing option of up to 6° provides pinpoint lighting from high ceilings including various circular symmetric or oval asymmetric beam planforms for traffic surfaces or entrance zones.
Dimensions
Diameter: 125 mm (4.92 in), Height: 65 mm (2.56 in)
Luminaire Type

&nbsp&nbsppureWhite

&nbsp&nbsppureColor

pureWhite Color Temperatures
2700 K, 3000 K, 3500 K, 4000 K
* Project-specific color temperatures for pureWhite available.
pureColor LED-Colors
Red, Green, Blue, Amber
* Project-specific colors for pureColor available.
Beam Angles
Luminous Flux
1176 lm

pureColor Red 571 lm
pureColor Green 961 lm
pureColor Blue 413 lm
pureColor Amber 478 lm

Light Source
9 x LED
Color Rendering Index
Ra >= 80
LED-Binning
MacAdam Ellipses Binning
3
Dimming
Non-dimmable | Dimmable (DMX)
Input Voltage

Power Supply: External | 36 VDC

Power Consumption
Max. 15 W
Protection Class
II
Operating Temperature Range
-20 °C / +40 °C | -4 °F / +104 °F
Lumen Maintenance [L70]
65'000 h @ 25 °C (77 °F) | 40'000 h @ 40 °C (104 °F)
LED-Class
Class 2 LED product
Housing
Aluminum Heat sink: Titan anodized
Housing Color(s)

Aluminium anodized (Standard)

Titanium anodized

Black anodized

Frame
Natural anodized (Standard), Titan anodized, Black anodized
Installation Depth
63 mm (2.49 in)
Cut-out
Diameter: 115 mm (4.52 in)
Ingress Protection
IP20
Environment

Warranty
24 Months
Certification
Your order code:
Send request
When the background gets green, your selection is complete!
Please choose from the options below.
TYP - LUMINOUS COLOR
pureWhite - 2700 K
pureWhite - 3000 K
pureWhite - 3500 K
pureWhite - 4000 K
pureColor - Red
pureColor - Green
pureColor - Blue
pureColor - Amber
DIMMING
Non-dimmable
Dimmable - DMX
BEAM ANGLE
8° x 8°
10° x 10°
23° x 23°
43° x 43°
52° x 52°
8° x 31°
10° x 42°
12° x 60°
12° x 90°
20° x 60° (Tilt C0: 10°)
HOUSING COLOR
Aluminium anodized (Standard)
Titanium anodized
Black anodized
Max. Fixtures per Feed

PS 500 indoor: Max. 30 fixtures (refer to cabling guide with PS 500)
PS 250 indoor: Max. 15 fixtures (refer to cabling guide with PS 250)

Input
cablelength factory wired 1m [39.37"]